Click to enlarge
Herbopile Pills: For Fissures and Piles Relief (Pack of 3)
MRP ₹400.00 – ₹500.00(Inclusive of all taxes)
10%

OFF and FREE Shipping on Prepaid Orders
FREE Shipping on All PREPAID Orders
10% Extra OFF on COD Orders above Rs. 799
10% Extra OFF on Prepaid Orders above Rs. 499
No Questions on Refund
Ayurvedic Piles Medicine to help treat piles & fissures.
Net Quantity:
Pack of Three – 30 N X 3 (Pills)
Pack of Four – 30 N X 4 (Pills)
Dosage: 1 pill thrice a day after meals for ages 15-70 years | 1 pill after breakfast, for ages 10-15 years.
Natural

Aids in relieving swelling, pain, burning and itching associated with piles: Herbopile contains anti-inflammatory, pain relieving, and laxative herbs like Lembodi, Bakayanphal, and Harda. They reduce swelling and relieve pain and itching of piles.

Controls bleeding and helps in wound healing: Key ingredients like Rasavanti and Nagkesar included in Herbopile have astringent, antimicrobial and wound healing actions. They help to arrest bleeding and supports wound healing.

Helps to regularise bowel movements.: Laxative herbs like Harda, Bakayanphal relieves constipation and also help to regularise bowel movements.

Relieves constipation: Harda, Bakayanphal are well-known for their laxative action that relieves constipation.

Manufactured in GMP certified, approved plant
Recommended Course: Minimum 6 months.
How to Use
Description
Ingredients
FAQ
Additional information
For Ages 10-15 years: 1 pill after breakfast.
For Ages 15 and above: 1 pill thrice a day after meals.
Recommended Course: Minimum 6 months.
BEST BEFORE 36 MONTHS FROM MANUFACTURE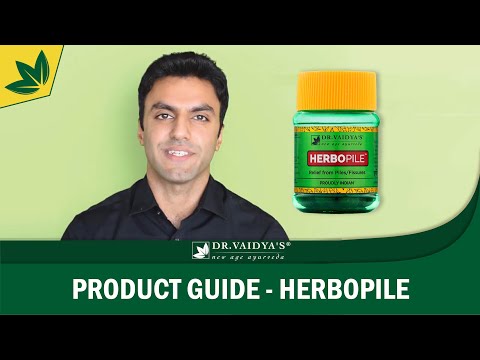 Still have questions? For a free consultation, Please call us on +912248931761 or email us on [email protected]
Description
 Dr. Vaidya's Herbopile Pill is an effective Ayurvedic medicine for managing bleeding as well as non-bleeding piles. Herbopile combines laxative, anti-inflammatory, wound healing, and digestive herbs to provide relief from piles. It helps relieve constipation, pain, burning sensation, itching and controls bleeding associated with piles.  
This natural Piles medicine contains Lembodi or neem seeds and Bakayanfal. They are used traditionally as a natural remedy for piles. These herbs have anti-inflammatory, antimicrobial, pain-relieving, and wound healing properties. Harda is a mild laxative that relieves constipation and helps regulate bowel movements. It also improves appetite and digestion. Nagkesar and Rasavanti help to arrest bleeding and promotes wound healing as well as digestion. 
Herbopile Pill combines the healing properties of these herbs to manage piles and fissures. For best results, it is recommended to take Herbopile for a minimum of 6 months or as advised by a physician.
Herbopile Benefits:
Helps with piles symptoms like swelling, burning, itching, and pain.
Made from standardized extracts of natural herbs for maximum potency.
Relieves constipation and helps to regularize bowel movements.
Contains Harda, Lembodi, Bakayanphal and other Ayurvedic medicinal herbs.
Can be consumed by kids over 10 years of age.
Formulated with choicest herbs and minerals that are sourced ethically from India to help manage piles naturally.
No known side effects.
Manufactured in a GMP-certified plant.
What Is Special About Dr. Vaidya's Herbopile Pills?
Dr Vaidyas Herbopile is an Ayurvedic medicine for piles (hemorrhoids).
One of the biggest benefits of choosing Herbopile is the fact that Herbopile causes no side effects when taken as per the recommended dosage. These piles pills are also safe for long-term use.
The Ayurvedic herbs used in this product are hand-selected using Ayurvedic knowledge for their specific attributes to help treat piles.
Note: We recommend a consultation with an Ayurvedic physician before consumption of these products as each body & individual is unique. For a free consultation with our in-house physician please call us on +912248931761 or email us on [email protected]
Herbopile comprises of the following herbal ingredients –
Lembodi
Lembodi is the ayurvedic term for neem seeds. It is one of the key ingredients of Herbopile. Known to have a high soluble fibre content, it gives way to softened stools and helps in weight management.
Bakanyafal
Known for its anthelmintic properties, Bakanyafal helps in the detoxification of blood.
Harda Chal
Celebrated for its anti-inflammatory properties, Harda Chal is known to offer relief from indigestion and constipation.
Rasvanti
Also known as Hujuj, this herb not only helps cure wounds but also offers relief from pain.
Nagkesar
Anti-peptic in nature, Nagkesar is known to be effective in aiding the digestive process.
Gandhna Bij
This ancient Ayurvedic herb is useful in relieving a number of ailments, including abscesses and diarrhoea amongst others.
What are the side effects of Herbopile?
There are no known side effects when Herbopile is taken according to the recommended dosage.
How to Use Herbopile?
For kids between 10 and 15 years of age, 1 pill after breakfast is the recommended dosage. For those over the age of 15 years, the recommended dosage is 1 pill thrice a day after meals. You should continue taking it for a minimum of 6 months to experience the maximum benefits of Dr. Vaidya's Herbopile.
Can Herbopile cure the piles without surgery?
Herbopile is an effective remedy for mild or moderate cases of piles. However, severe cases may require surgery. If you have any doubts, contact our Ayurvedic consultants for the best treatment options for your case.
Is it safe for patients to take medicines for other chronic diseases?
Since Herbopile is an Ayurvedic medicine, it can be considered safe for consumption. However, its always better to talk to your doctor about possible interactions with other medicines used to manage chronic diseases.
Is Herbopile safe for pregnant ladies?
Piles are more common in the third trimester (6-9 months) of the pregnancy. While it is considered safe in general, it is recommended that you consult your physician if you are pregnant or are a breastfeeding mother, and have piles.
Is it 100% ayurvedic & natural?
Yes, Dr. Vaidya's Herbopile is manufactured in a GMP-certified plant with 100% ayurvedic and natural herbs.
Any special diet while taking the Herbopile or which foods help to get faster relief?
Fibre-rich foods are known to help get relief from Piles and can help improve the effectiveness of Piles medicines like Herbopile. These foods include wheat bran, apples, pears, lentils, and corn to name a few.
Is Herbopile an effective medicine for piles and Fissures?
Herbopile makes use of safe and natural Ayurvedic ingredients to provide an effective Ayurvedic treatment for piles and fissures. The formulation is based on Ayurvedic wisdom as well as modern research, creating a piles solution that addresses the root causes like constipation while controlling bleeding to provide long-lasting relief.
How to store Herbopile?
Store Herbopile pills in a cool, dry place. Read the label instructions for additional details.
What is the expiry date of Herbopile pills?
Each bottle of Herbopile expires 36 months after manufacturing. The manufacturing date is stamped on the side of the bottle.
How much time person should take this medicine to get the relief completely?
The recommended course for Herbopile is 6 months to get the most out of this Ayurvedic product.
Is it effective for bleeding piles?
You can take Herbopile if your bleeding is mild but if you are experiencing excessive bleeding, consult a doctor instead.
Will this help to avoid or prevent piles as well?
Yes. Herbopile contains herbs that promote regular bowel movements that can help prevent piles. It also helps if you make some dietary and lifestyle changes like eating high-fibre diets while lowering stress levels.
Do I need to consult doctors for taking Herbopile?
You can directly purchase Herbopile without a doctor's prescription. However, it's always recommended to talk to an Ayurvedic consultant before taking Ayurvedic products.
Are there any specific side effects for Senior Citizens?
Herbopile can be taken in the recommended dosages by senior citizens up to the age of 70 without fear of side effects. But its always safer for senior citizens to talk to their doctor before starting any new medications.
Are Herbopile Pills same as Arshari Pills?
Yes. Herbopile is the rebranded name for Arshari and provides the same effective relief from piles.
Which ayurvedic herbs are added in Herbopile?
Herbopile contains 7 Ayurvedic herbs: Lembodi, Bakayanfel, Harda Chal, Rasvani, Alio, Nag Kesar, and Gandh Na Bij.
Are you still unsure if Herbopile is the right fit for you?
Get a free consultation from our in-house Ayurvedic physician to get personalized recommendations. Talk to the doctor with our online doctor consultation or visit our Ayurvedic clinic in Mumbai.
Additional information
| | |
| --- | --- |
| Packs | Pack of 3, Pack of 4 |