Click to enlarge
Herbobuild Capsules: Ayurvedic Medicine For Muscle Gain
MRP ₹279.00 – ₹699.00(Inclusive of all taxes)
10%

OFF and FREE Shipping on Prepaid Orders
4222

people bought this recently
IN STOCK
Only few left in stock order soon!
FREE Shipping on All PREPAID Orders
COD Available
10% Extra OFF on Prepaid Orders above Rs. 450
No Questions on Refund
Net Quantity:
(30 N x 1) Pack of One | Save ₹115 with a 28% discount
(30 N x 2) Pack of Two | Save ₹246 with a 30% discount
(30 N x 3) Pack of Three | Save ₹410 with a 33% discount
Herbal Support for Bodybuilders and Athletes
Natural & chemical-free

Build muscle mass and strength

Raise testosterone levels, naturally

Enhance physical performance and cardiorespiratory endurance

Facilitates smooth muscle relaxation

The perfect aid to your workout routine

Manufactured in GMP certified, approved plant
Dosage: Take 1 to 2 capsules two times a day after a meal.
Recommended Course – 3 months
Herbobuild Capsules – Customer Review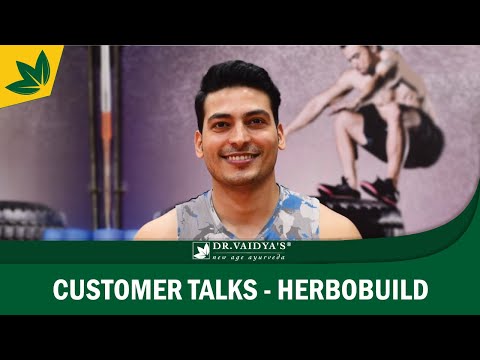 Description
How to Use
Additional information
Ingredients
FAQs
Description
Herbobuild is a specially formulated Ayurvedic supplement for bodybuilders and fitness enthusiasts to build muscle mass and strength naturally. It contains rejuvenating herbs having Balya or strength promoting action. These herbs help improve the haemoglobin and red blood cell count. By enhancing the functioning of the heart and lungs, they help to fuel the body with oxygen and thus, improve physical performance. Thus, Herbobuild with its unique blend of herbs helps you reap maximum benefits from your workout sessions. 
The ingredients used in Herbobuild are effective in improving energy levels and the overall physical as well as psychological health. Ashwagandha root improves body strength, muscle size, and also helps in quick muscle recovery by relaxing them. Shatavari contains the amino acid asparagine that enhances protein synthesis needed for muscle building. Safed Musli, on the other hand, helps increase muscle gain and muscular strength by elevating testosterone levels.  
Herbobuild helps you achieve your fitness goals safely and without risks associated with chemically synthesized alternatives. Herbobuild works on different body systems like muscular and, digestive systems to restore the body physiology and give long lasting effects.
Continuous and disciplined usage for a longer period of time along with appropriate changes in the diet and lifestyle is crucial. This is why we recommend to take Herbobuild daily for a minimum of 3 months with a disciplined fitness and diet regimen to get best results.
We are updating our bottle packaging for Herbobuild. But rest assured that regardless of which packaging you receive, the quality and efficacy of the product is the same.
Note: For a free consultation with our in-house physician please call us on +912248931761 or email us on [email protected]
Take 1 to 2 capsules two times a day after a meal.
Recommended Course – Minimum 3 months
BEST BEFORE 36 MONTHS FROM MANUFACTURE
Still have questions? For a free consultation, Please call us on +912248931761 or email us on [email protected]
Additional information
| | |
| --- | --- |
| Packs | Pack of 1, Pack of 2, Pack of 3 |
The primary herbal ingredients used to prepare Herbobuild, a natural supplement for bodybuilders, includes the following –
Ashwagandha: Helps increase muscle size, strength, endurance, and athletic performance; relieves muscle pain.
Shatavari: Increases muscle growth and strength by having positive effects on protein metabolism; delays fatigue, raises energy levels, protects muscles.
Safed Musli: Boosts testosterone levels to help build muscle mass, relieves muscle ache, improves digestion.
Gokshura: Enhances muscle growth, ensures proper blood supply to muscles to improve workout stamina, supports post-workout recovery.
Methi Seeds: Improves natural testosterone production to promote muscle gain using furostanolic saponins found in Methi.
Kaunch Beej: Stimulates the pituitary gland to promote testosterone production, boosting muscle strength and energy levels.
1. What is Herbobuild?
Herbobuild is an ayurvedic formulation that is specifically designed to enhance muscle mass and strength naturally. This supplement contains a blend of 3 herbs that have proven benefits in terms of physical performance, cardio-respiratory endurance, smooth muscle relaxation, and thyroid function. What's unique about Herbobuild is that it helps athletes, bodybuilders, and fitness buffs achieve their goals naturally, without any need for conventional supplements.
2. What are the ingredients in the product?
Ashwagandha: An important rasayana, Ashwagandha has been proven to lower cortisol levels, while raising testosterone to improve performance, muscle growth, strength, and cardiorespiratory function.
Safed Museli: An important herb for bodybuilders, Safed Museli enhances both muscle growth and tissue repair.
Shatavari: This rejuvenative herb contains steroidal saponins that boost testosterone, which aids muscle growth. It also contains asparagine, among other nutrients that aid protein synthesis, fueling muscle growth and athletic performance.
3. What is the recommended course?
Minimum recommended course is 3 months.
4. When will I see results?
It depends on one's Diet and Exercise. High calorie and high protein diet is recommended to get the best result.
5. What are the benefits of the product?
It helps in building muscle and to get the most out of your workout. With Herbobuild, bodybuilders and athletes can get a much needed natural boost to improve performance, endurance, strength and muscle mass.
6. Does Herbobuild helps in boosting male testosterone?
YES! It helps in boosting male testosterone.
7. How does one consume the product?
One capsule twice daily after meals.
8. How is it different from protein powder and other Bodybuilding supplement?
Herbobuild is a natural and ayurvedic medicine and has no steroids or protein powder. It does not have any side effect on body organs like liver or kidney which usually get affected by other protein powders and steroids.
It's safe for long-term use and dosage can be increased, if required. Please consult an ayurvedic doctor before increasing dosage.